Business Continuity Planning
Strategic data backup and disaster recovery for businesses like yours in Saint Augustine, Jacksonville, and Palm Coast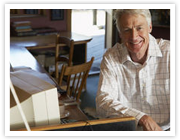 Is your present backup plan immune to today's lurking dangers that could sabotage your business? With a disaster recovery solution that's customized for your company, you can rest assured your business will survive no matter what.
Gwanda provides the data backup, computer hard drive backup, and complete hardware and system recovery you need to attain true peace of mind.
As your partner in Business Continuity Planning and Disaster Recovery, Gwanda allows you to:
Put your fears to rest in the face of uncontrollable disasters and their lasting impact on your business - we take care of all your backup needs
Employ a current backup plan for your business - your data and systems are continually backed up automatically and stay current
Ensure your critical customer data is safe and secure - eliminate risk from potential liabilities with lost customer data
Reduce the time to get back in business - in case of a disaster you will be up and running in no time
Protect your entire business - we ensure that your email, systems, and more are all protected and ready for a quick recovery
Take the worry out of losing your critical data with Business Continuity Planning, Backup, and Recovery that protects against the unforeseen.
State-of-the-art solutions in backup from Gwanda ensure safety and security from lurking disasters. Serving Saint Augustine, Jacksonville, Palm Coast, Bunnell, Flagler Beach and Palatka, our data backup and computer hard drive backup solutions give you the power to achieve your goals, no matter what the future holds.
Whether your business requires online backup, hard drive and data backup, computer backup, disaster recovery and a business continuity plan, virtual data recovery, hard drive and file data recovery, computer recovery, remote data backup, or offsite data backup & recovery services, we've got the answer.
Never let a disaster get in the way of achieving your vision. Get a business continuity and disaster recovery solution that's there for you, no matter what.