IT Consulting
Committed IT Outsourcing and IT Consulting for businesses in Saint Augustine, Jacksonville, and Palm Coast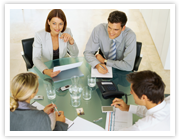 Are you confused about what technology is critical for your business and what you could live without? With streamlined, affordable strategies from IT Consulting services, you come away with answers, not questions.
IT Outsourcing and Virtual CIO (Chief Information Officer) services from Gwanda offer sound alternatives in technology solutions so you can gain independence and rise to the top.
Gwanda brings value to your company with IT Consulting solutions including:
IT Strategy - our expert professionals can zero in on your system to isolate potential problems to develop a customized IT solution to your specific technology problems.
Application and Setup - through vendor partnerships and careful planning, our consultants will put together the best IT strategy for your business to ensure your IT solution enhances your success today, and in the future.
Ongoing IT Management - our team of experts develop a security solution providing protection against unforeseen disasters to your system.
Let us lead your business to customized IT security solutions that are just the right fit.
Gwanda brings a streamlined approach with Virtual CIO and IT outsourcing enabling you to focus on your business. Serving Saint Augustine, Jacksonville, Palm Coast, Bunnell, Flagler Beach and Palatka, we offer cohesive IT Consulting Services that let you utilize the power of technology for greater success.
Whether your business is in need of outsourced IT, technical support services, IT outsourcing, IT consulting services, small business server consulting, network consulting, computer security consultants, and information technology consulting services and virtual CIO (Chief Information Officer) services, we can take care of it.
We have the know how to interface technology and business with our comprehensive yet streamlined solutions. With trust in a committed IT Consultant, you'll receive the benefit of knowing you're fully protected.