Managed Services
Comprehensive IT support management and computer network maintenance for businesses throughout Saint Augustine, Jacksonville, and Palm Coast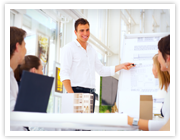 You don't get paid to fix IT issues, so why are you always putting your business aside to handle problems with your technology? Let Gwanda, experts in IT Support, free you up from the constant worry and downtime of computer network related issues.
IT management and IT support from our team of trusted advisors let you keep moving forward instead of wasting time with your computer network and data.
Managed IT Services from Gwanda can help you achieve your goals with the ability to:
Put the focus back on your business - with a dedicated team behind you to deal with your technology
Get more accomplished - with IT that simplifies your business
Eliminate budgeting surprises - with a fixed monthly fee that covers your technology needs
Defend your hard earned business assets - we protect your computer network and its data from the outside electronic world
Free yourself up to focus on what's important in your business as you turn over technology concerns to us.
Gwanda is your partner in making sure your technology meets the unique needs of your business. Aligning with businesses in Saint Augustine, Jacksonville, Palm Coast, Bunnell, Flagler Beach and Palatka,
Whether your business requires network management, computer network maintenance, network installation services, wireless network design, remote/on-site IT support, network and server support, IT support consulting, or computer network infrastructure management service, you can trust that we'll deliver.
The commitment of our experienced staff of professionals to deliver optimal support gives you the freedom to take back the reins of your business. By relying on our expert computer network maintenance, you're all set to take your business to the next level.